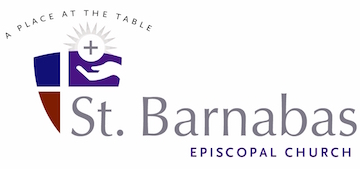 Three doctors were waiting in line to get in the pearly gates.  When they got to the front of the line, St. Peter asked the first doctor, "What did you do that would get you into heaven?"  The doctor said, "I was an Obstetrician.  I brought thousands of lives into the world."  St. Peter said, "Fine.  Welcome."  He then asked the second doctor, "What did you do that would get you into heaven?"  The doctor said, "I was a medical missionary.  I went to the most impoverished areas of the world and brought comfort and healing to the sick."  "Great!" said St. Peter.  "Welcome."  Finally, he turned to the last doctor and said, "What about you?"  The doctor said, "I was the medical director for a major health insurer."  St. Peter hesitated and then said, "We're going to have to send this to a committee for approval.  And if they decide that you can come in, there will be a $1000 deductible and your stay is limited to 48 hours."
Jesus said, "As the Father has loved me, so I have loved you; abide in my love. If you keep my commandments, you will abide in my love, just as I have kept my Father's commandments and abide in his love.  ...  This is my commandment, that you love one another as I have loved you."
The last couple of weeks, we have been hearing from Jesus' "Farewell Discourse," in John's Gospel.  This is the long speech that Jesus gave the Disciples, before he was arrested, on His way to the Crucifixion.  In this 4th Gospel, Jesus spends a great deal of His time toward the end, telling His followers about God and His relationship to the Father.  And about His love for them; the Father's love for the Son; and the love that they ought to have, in order to spread God's love throughout the world.  Jesus told them to look at how He had loved them, up to that moment, and to see that love as a reflection of how — and how much — God loves Jesus, and therefore, how much God loved them.  Then He admonished them to go out into the world and love like He and the Father love.  
The Greek word that John uses in this passage for "love," is, "agape."  As I have told you before, the ancient Greeks had multiple words for what we simply call, "love."  One word was filios.  That is the love that we feel for our family members.  Folios is platonic, protective love.  Then there is Eros — or the love of people who have just "fallen in love."  Eros is passion.  It is that form of love that I read makes people not want to fall asleep, because for once, reality is better than a dream.  Unfortunately, Eros in its pure form, does not last long.  And finally, there is what the author of the 4th Gospel was talking about.  
Agape is that form of love that is absolutely free of ulterior motives.  When we feel agape toward another person, the thing that we want most is for that person to always have what is best for him or her — even when his or her getting what is best comes at great personal cost to us.
I recently read an excerpt from contemporary writer, Eckhart Tolle's book, A New Earth: Awakening to Your Life's Purpose, in which he said:
A beggar had been sitting by the side of a road for over thirty years. One day a stranger walked by. "Spare some change?" mumbled the beggar, mechanically holding out his old baseball cap. "I have nothing to give you," said the stranger. Then he asked: "What's that you are sitting on?" "Nothing," replied the beggar. "Just an old box. I have been sitting on it for as long as I can remember." "Ever looked inside?" asked the stranger. "No," said the beggar. "What's the point? There's nothing in there." "Have a look inside," insisted the stranger. The beggar managed to pry open the lid. With astonishment, disbelief, and elation, he saw that the box was filled with gold.
This is what the [agape] is all about. (Tolle says). There's something within you containing all the love you could ever ask for. You don't need a (lover), don't need your family, you don't need anything .... Imagine this: never feeling lonely again, never feeling empty again, always feeling fulfilled. This is what you'll gain when you experience Agape.
Jesus taught the Disciples about agape so that they might experience His love for them, even after He was gone from their sight ... and so that they might also grow into God's mission of spreading that love around the world.
The world that we live in is desperate for an experience of agape in action.  There is so much violence in the world; so much poverty; so much suffering; so many people not only ignoring the suffering of their brothers and sisters, but actively adding to it in order to gain an advantage over someone else.   
Mother Theresa is quoted as having said, 
The greatest disease in the West today is not TB or leprosy; it is being unwanted, unloved, and uncared for.  We can cure physical diseases with medicine, but the only cure for loneliness, despair, and hopelessness is love.  There are many in the world who are dying for a piece of bread but there are many more dying for a little love.
Sometimes it is almost like love — pure, agape — is all but dead.  At least that is the way it seems.
If that rings true for you ... if you feel like unselfish love is sorely lacking in the world ... go out and change it!  Jesus said, "Love one another just as I have loved you."  Starting right here and right now, give to your neighbor, no matter who he or she may be: that love that wants nothing in return for loving; the love that wants only the very best for the object of the love; that love which would cause someone to lay down their life for someone else; that Jesus-like agape.
It is not easy to love everyone with pure agape — but what about being a disciple of Jesus Christ is easy?  Try it anyway.  If you truly want to change this cruel and unloving world, this is the only way.  Hate cannot destroy hate.  Cruelty cannot destroy cruelty.  Selfishness cannot destroy selfishness.  Only agape can do that.  And we ... the beloved of God who know the love of Jesus Christ are the right ones to bring agape.  So, let's get started today.
Amen.